all valued customers, 
We recently got some news that is going to change our product selection quite heavily in terms of MYLE Products.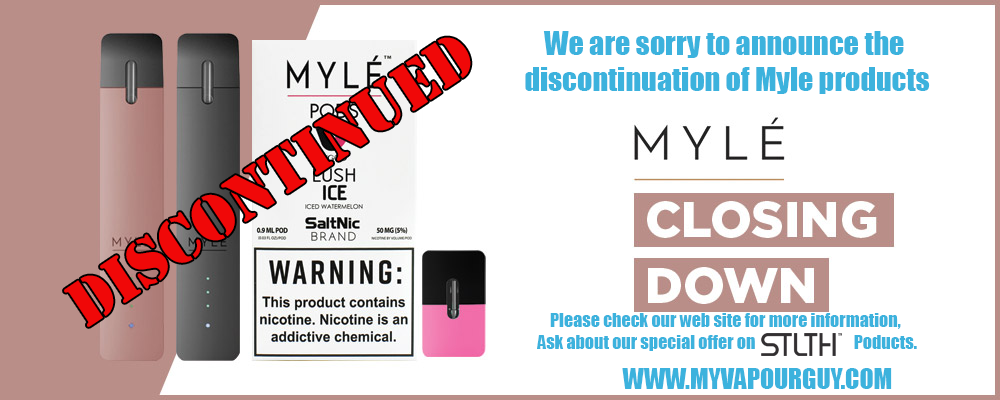 TJP Labs, Also known as The Juice Punk has terminated their partnership with Myle and will be selling out what stock they have left. We only just received this news on Thursday on this week (June,25, 2020). 
They did inform us that Myle plans on opening their own operation here, but that is not currently the case, and there is no projected date. 
This effectively means that we will have to unfortunately phase out Myle products as we do not have a source with them any longer. 
They may still be available in limited supply on-line for those trying to stock up but the Quad berry flavour, Sweet Tobacco flavor, and Vanilla Creme will all be discontinued as they were Juice Punks recipes.
We Do apologize for the inconvenience this is sure to cause issues for some of our loyal MYLE customers, but it is out of our control, and we are doing what we can to try and make it right!
Thank you for your understanding and patience these past few months! We are doing our best to relay any information from wholesalers as we receive it as many producers and wholesalers are still working in a limited capacity. 
There are a few options to mitigate this issue! 
For current Myle Customers, if you bring us in your Myle Battery once you finish with any pods you may still have, we will provide you a discount on 1 of 2 Options!
Option 1: For those that love the convenience of pre-filled pods - 
We will provide a 15% discount on a Stlth Start Pack (1 Device and 1 Pack of Pods). Stlth is a Canadian produced pre-filled pod system similar to the myle, but they offer a larger array of flavors, nicotine strengths, and tend to be an all around more reliable and popular product at this point. 
Note***similar to how you can use points for a discount on MYLE pods, you will also now have the option to use them on STLTH products instead!).
Option 2: For those looking to save a little extra money VS. Pre-filled pods -
We will provide a 15% discount on the Purchase of a Minifit Refillable Pod device and a bottle of e-liquid.
While it may seem like alot, we can assure you filling your own pods, selecting your own flavours and nicotine strengths is by far the better experience! It allows you to really figure out what works the best for you, try new flavors, and have more control over your nicotine level, especially for those of you using "weaning" as a method of quitting smoking or nicotine vaping altogether!
Our experienced employees will be happy to give you a tutorial on your device upon purchase! And we will be here to support you with any issues you may run into!
Due to the nature of E-liquids all having different sizes. strengths and prices, we cannot provide an accurate number of what this bundle will cost - BUT
Should you choose the Minifit Device and a 30ml of House brand Traditional Nicotine E-Liquid (Nicotine Free Applies here) or a 15ml of L!X brand Salt Based Nicotine: The cost would be $36.15. Prices may vary for larger bottles or Premium brands.  
The nature of this style of device will save money as well. For example, you will need to replace the pod section once every 14-28 days which costs $4.50 + tax. And depending on how much you vape, you will likely buy a 30ml of liquid ($10-$20) which will last 2-4 weeks! Meaning your monthly spending habits should be quite reduced to the Myle Vaping system!
Please stop-in to either of our locations should you wish to take advantage of this offer! In the meantime, there are some limited products available from MYLE so if we are able to special order any products for you, we will, but options are drying up. We do know Iced Mint as already no longer available. 
We apologize again for any issues this will cause! Please stop by or call either location to inquire further! 
Regards,
The My Vapour Guy Team